Girls Football League Report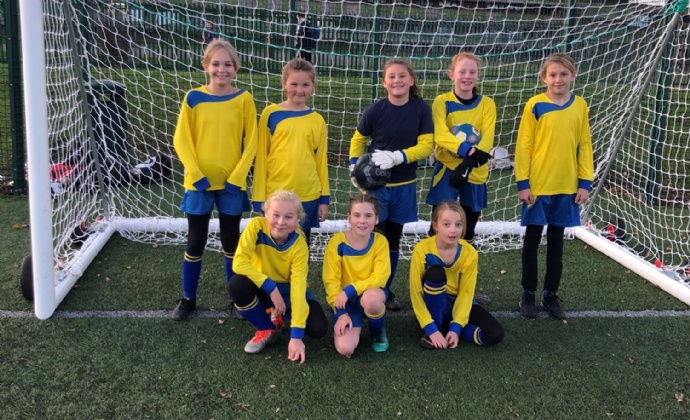 Match Day Statistics
6 Schools - 85.7% attendance
51 Players
9 Teachers
Round 1 started at 4.00pm
Round 5 finished at 5.25pm
Duration of matches - 4 x 12 minutes and 1 x 10 minutes
11 League matches played and 3 Friendlies
29 League goals scored
Average goals per match - 2.63
8 Close encounters - 2 draws of 1-1
Match Day Highlights
The football on display was as exciting as the girls September session, great display of goalkeeping from the Dovelands goalkeeper,
she through her body at the ball, thwarting the attacking players on a number of occasions, had safe hands and distributed the ball very well. Excellent performance, well done young lady. The Parks number 9 caught my eye, playing as central defender her anticipation on where the attacker would be, her timing on her tackles and interceptions and achieving the ball was superb. She wasn't the tallest of defenders on the field of play, however, she clearly has a natural ability and understands the art of defending. Well done young lady.
We had wonderful attacking play with good build up from the back. Midfield players, particularly from Folville and Parks were very
attacking minded, comfortable on the ball and had a good eye for goals. Folville scored 38% and Parks scored 31% of goals scored.
Their movement, changing direction, runs through the middle and double scissor dribbles was a joy to watch as was the goals they scored. Well done to both teams.
All in all, wonderful entertainment, all 51 players were on the pitch for 58 minutes of play, kept themselves warm whilst having fun, well done to you all.
| | | | | | | | |
| --- | --- | --- | --- | --- | --- | --- | --- |
| Team | Played | Won | Drawn | Lost | For | Against | Points |
| Folville | 8 | 7 | 1 | 0 | 22 | 1 | 30 |
| Beaumont Lodge | 9 | 6 | 1 | 2 | 9 | 3 | 28 |
| Parks | 9 | 6 | 0 | 3 | 13 | 9 | 27 |
| Braunstone CPS | 9 | 2 | 3 | 4 | 10 | 10 | 18 |
| Stokes Wood | 8 | 2 | 1 | 5 | 6 | 11 | 15 |
| ARH | 8 | 2 | 1 | 5 | 6 | 15 | 15 |
| Dovelands | 9 | 1 | 1 | 7 | 4 | 20 | 13 |